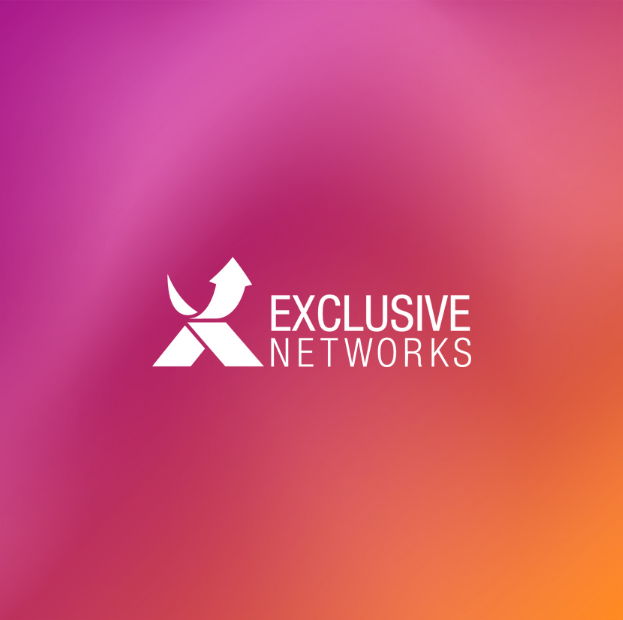 Q3-22 Gross Sales up 42% to €1,127 million Driven by strong organic growth and Large Enterprise Deals
Americas Region grew by 66%, overtaking APAC for the first time

 

Cloud based sales reaching €1bn annualized run rate

 

FY 2022 Outlook confirmed (upgraded in September)
BOULOGNE-BILLANCOURT – November 9, 2022, at 7:00 A.M. CET – Exclusive Networks (Euronext Paris: EXN) today announces its Gross Sales and IFRS Revenue for the third quarter of 2022.
Jesper Trolle, Chief Executive Officer, said: "A year on from our successful IPO, I am delighted to report another very solid quarterly performance. Our strong momentum since becoming a public company continues, with Q3 Gross Sales growing by 42% compared to the same period last year.
This is down to the hard work and commitment of our talented teams around the globe who continue to leverage our unique position and influence within the cyber ecosystem to capitalise on strong cybersecurity market demand. 
We have continued to integrate and deepen our relationship with existing vendors which has contributed to an impressive 88% to the growth of the quarter. This has been supplemented with the acquisition of new vendors such as Cymulate and contract extensions with strategic vendors such as Mimecast as we expand their presence across our global footprint. This has added a further €1.2 billion to our serviceable addressable market opportunity to drive future growth. 
One of the biggest challenges in cybersecurity right now is the global cyber skills and talent deficit, with an estimated 3.5 million unfulfilled roles. I am particularly proud of our response to this global crisis having recently launched the Exclusive Academy to recruit, train and retain cyber experts and stay on the cutting edge of technology. With only 15% of cybersecurity professionals in the world attaining their position through cybersecurity training, there is a clear need to increase this, which we plan to do through a combination of practical and theoretical training as part of a long-term program. This follows our expanded partnership with ThriveDX, a global leader in cybersecurity education, to deliver end-to-end cybersecurity training and talent solutions to our global network of more than 25,000 partners. 
Digital transformation and IT modernisation continued to drive market demand as cybersecurity teams strive to safeguard remote and hybrid working environments dependant on cloud-based delivery models. Cyber breaches show no sign of slowing and continue to hit the headlines, with cryptocurrency exchange Binance falling victim to a $570 million crypto hack last month. 
Finally, we continue to see an upward trend in large enterprise deals as end customers continue to rationalise their security strategies toward a consolidated platform approach, leaning into channel partners to provide integrated solutions and flexible finance. 
Based on these strong results and our continued momentum, we remain confident in the revised full year outlook given in September." 
Q3 2022 FINANCIAL PERFORMANCE HIGHLIGHTS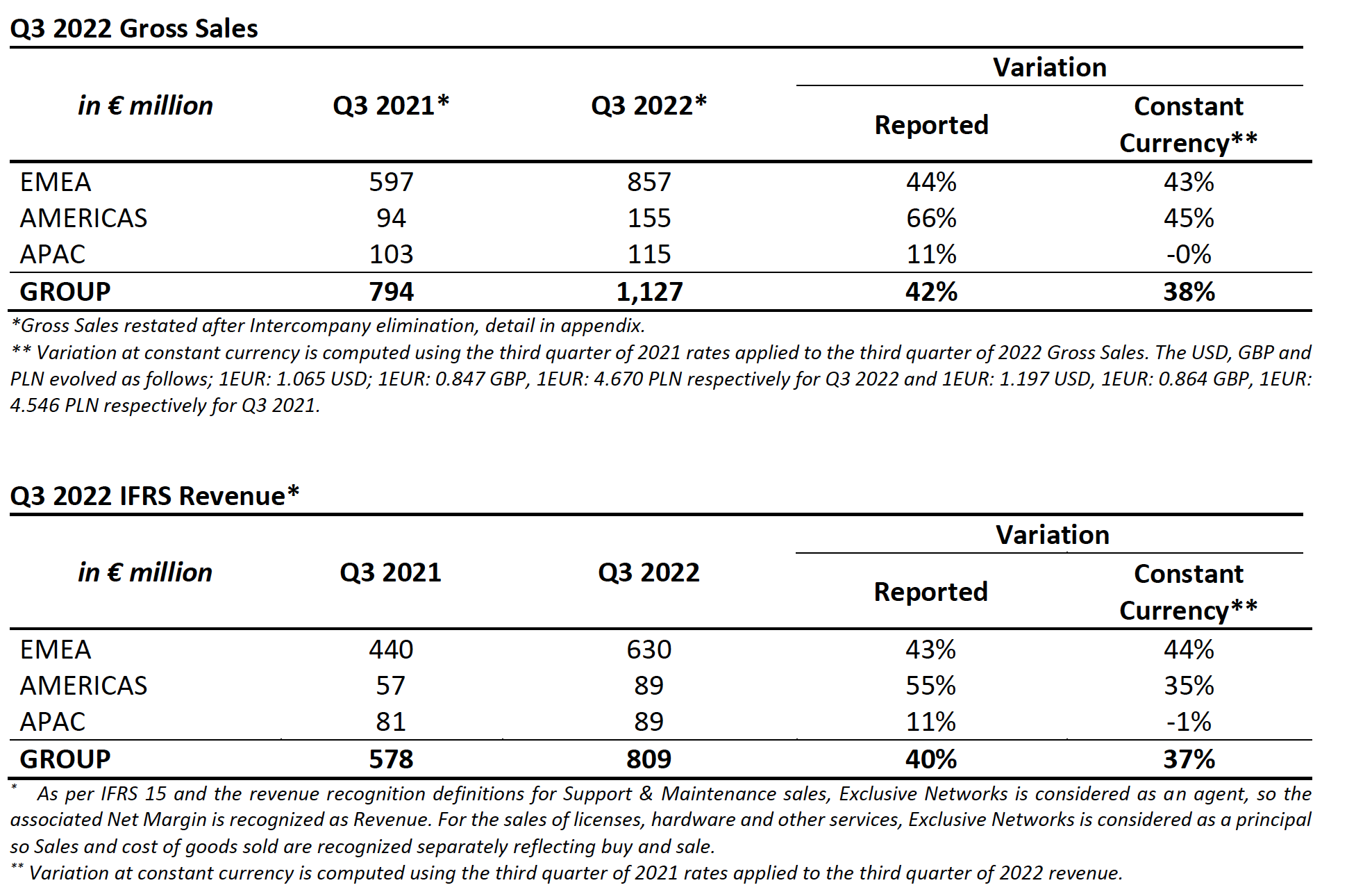 Gross Sales were €1,127 million, an increase of 42% year over year on a reported basis, 38% at constant currency. 
The 42% Gross Sales growth in the third quarter of 2022 was largely attributable (88%) to growth from existing vendors, testifying to the strength of our business model and our capacity to address the technological changes, as well as highlighting the underlying organic growth of the business. We also benefited from expanding with our vendors into new global regions as well as new vendor relationships (7%). Finally, the contribution of Networks Unlimited acquired, in December 2021 also supported our growth (5%). 
Vendors retention rates1 for the third quarter of 2022 were up 140% (vs 114% in the third quarter of 2021) with customers retention rates1 at 141% (vs 120% in the third quarter of 2021), supported by increasing demand for our vendors' solutions and the continued engagement of our channel partners.
OPERATIONS BY THEATRE
EMEA (77% of total quarterly gross sales): 
Gross Sales were €857 million, an increase of €260 million or +44% year over year. The EMEA Theatre, benefitted from a strong momentum in all countries and an accelerated trend in the Enterprise market fueled by the solid growth of our larger resellers (>€500k billings in one quarter), notably with some very large deals. 
AMERICAS (13% of total quarterly gross sales): 
Gross Sales were €155 million, a significant +66% increase over the quarter that allowed the Theatre to be positioned as the second largest for the Group. This reflects the good progress with our goal to expand further the activity of the Group in North America and was boosted by the sharp appreciation of the dollar over the period. 
APAC (10% of total quarterly gross sales): 
Gross Sales were €115 million, growing by +11% year over year. APAC posted a lower activity than the other Theaters given a less favourable market environment. In Australia the activity benefitted from an accelerated demand for cybersecurity solutions. 
In the meantime, many governments in the theater are still developing their cybersecurity and personal data protection regulations, while booking momentum remained positive.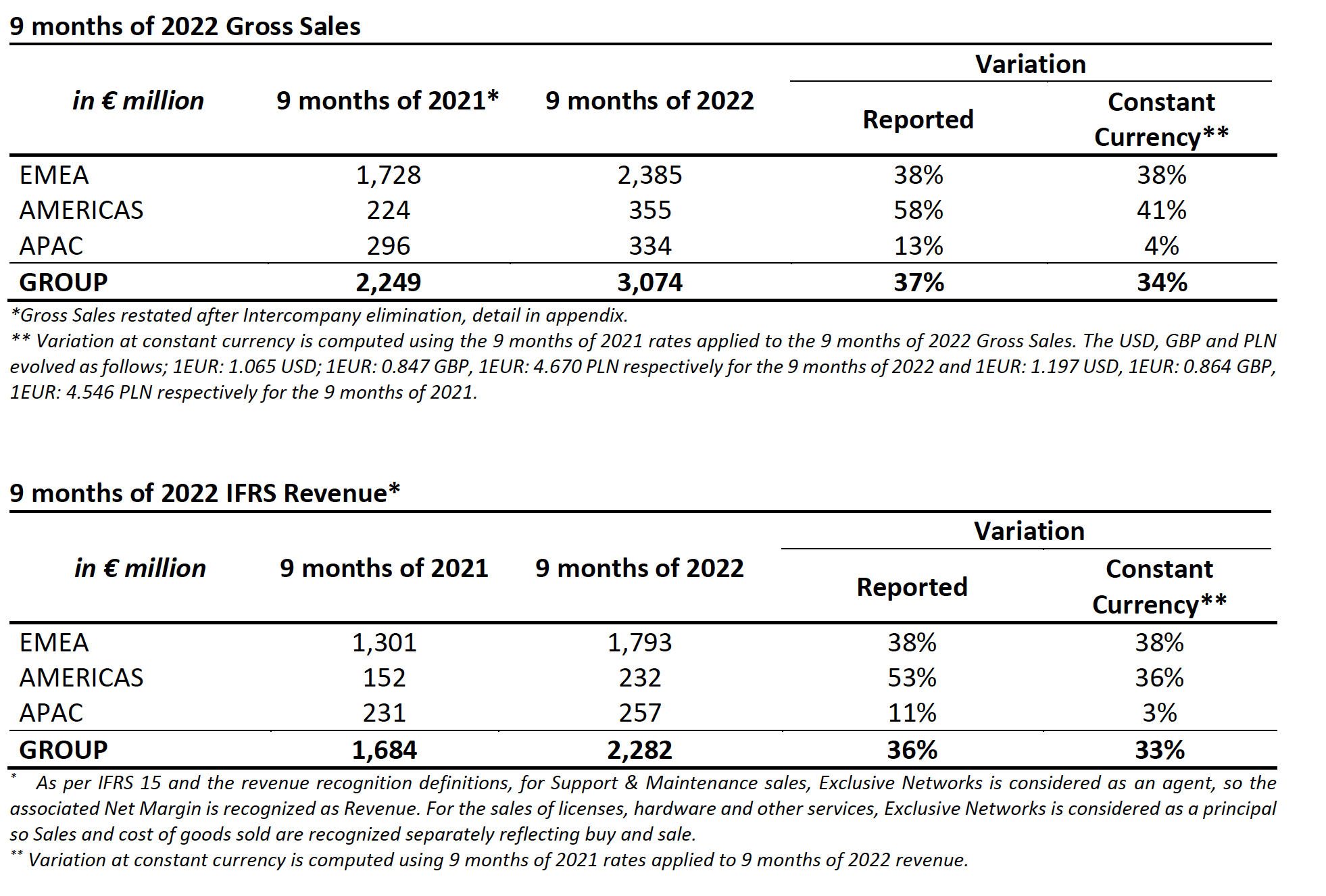 OUTLOOK
On the basis of the information currently available, the Group is confident in its upgraded outlook for the full year of 2022, which was published in September 2022: 
Gross Sales expected to exceed €4.2 billion;

 

Net margin expected to be between €392 million and €400 million;

 

Adjusted EBITA expected to be between €146 million and €152 million; and

 

Operating Free Cash Flow Before Tax expected above 160% of Adj. EBITDA.

 
CONFERENCE CALL
Jesper Trolle, Chief Executive Officer and Pierre Boccon-Liaudet, Chief Financial Officer, will present the Third Quarter 2022 performance during a conference call in English to be held on November 9, 2022, at 9:00 am (CET). 
You can follow the conference call live via webcast at the following link: https://ir.exclusive-networks.com/.
A replay will also be available for a period of one year. 
All documents relating to this publication will be placed online on the Exclusive Networks Investor Relations website at https://ir.exclusive-networks.com/ 
Regulated information related to this press release and presentation is available on https://ir.exclusive-networks.com/
PROVISIONAL CALENDAR
FY 2022 Financial Results: February 28th, 2023.

 

Q1 2023 Gross Sales and Revenue Release: May 4th, 2023.

 

2023 Annual General Meeting: June 8th, 2023.
---
EXCLUSIVE NETWORKS CONTACTS
Investors & Analysts
Hacene Boumendjel
Head of Investor Relations
[email protected] 
Media
FTI Consulting
Emily Oliver / Tom Blundell
+33 (0)1 47 03 68 65
[email protected] 
---
About Exclusive Networks
Exclusive Networks is a global trusted cybersecurity specialist for digital infrastructure helping to drive the transition to a totally trusted digital future for all people and organisations. 
Our distinctive approach to cybersecurity gives partners more opportunity and more customer relevance. Our specialism is their strength – equipping them to capitalise on rapidly evolving technologies and transformative business models. 
The Exclusive Networks story is a global one with a services-first ideology at its core, harnessing innovation and disruption to deliver partner value. With offices in 46 countries and the ability to service customers in over 170 countries across five continents, Exclusive Networks has a unique 'local sale, global scale' model, combining the extreme focus and value of local independents with the scale and service delivery of a single worldwide cybersecurity powerhouse. 
Exclusive Networks is listed on the Euronext Paris stock exchange (Ticker: EXN). For more information visit www.exclusive-networks.com.
DISCLAIMER
This press release may contain forward-looking statements. Such statements may include projections, estimates, assumptions, statements regarding plans, objectives, intentions and/or expectations with respect to future financial results, events, operations and services and product development, as well as statements, regarding future performance or events. Forward-looking statements are generally identified by the words "expects", "anticipates", "believes", "intends", "estimates", "plans", "projects", "may", "would" "should" or the negatives of these terms and similar expressions. Although Exclusive Network's management currently believes that the expectations reflected in such forward-looking statements are reasonable, investors are cautioned that forward-looking statements are subject to various risks and uncertainties (including, without limitation, risks identified in Exclusive Networks' Registration Document available on Exclusive Networks' website), because they relate to future events and depend on future circumstances that may or may not occur and may be different from those anticipated, many of which are difficult to predict and generally beyond the control of Exclusive Networks. Actual results and developments may differ materially from those expressed in, implied by or projected by forward-looking statements. Forward-looking statements are not intended to and do not give any assurances or comfort as to future events or results. Other than as required by applicable law, Exclusive Networks does not undertake any obligation to update or revise any forward-looking statement. 
This press release does not contain or constitute an offer of securities for sale or an invitation or inducement to invest in securities in France, the United States or any other jurisdiction.